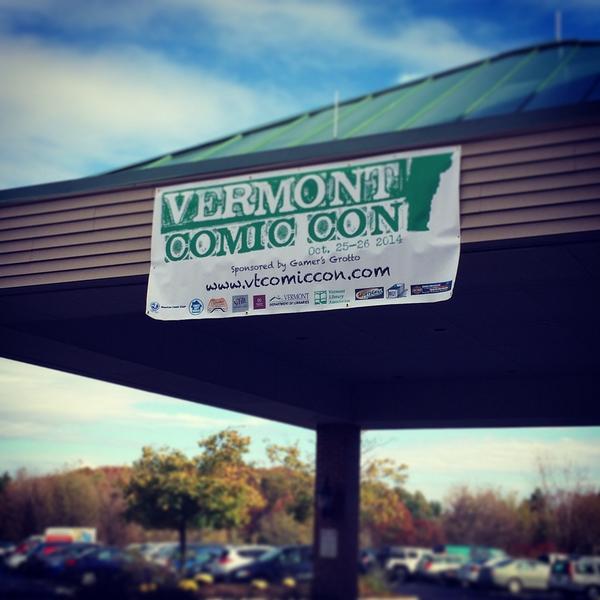 Over the weekend, Geek Mountain State (myself and a couple of hapless and selfless volunteers), had a table at Vermont Comic Con, which exceeded our expectations nicely on Saturday and Sunday. With this first year of the convention, we weren't sure exactly what to think: was this simply the workings of an outside company trying to force a standard-grade Comic Con into Vermont, or something that would ignore most of Vermont's vibrant community of artists and creators? Without the longer track record that other conventions have (such as in the major media markets of New York City and Boston), it was hard to tell.
The convention was a fun time, mixing the typical 'Comic Con' elements such as Cosplayers and vendors with some good local offerings, such as Tilt Arcade's game machines and the Vermont Library Association's booth. We were perfectly positioned next to Gamer's Grotto and chatted with a number of existing GMS followers and people who were simply curious about what we were up to. Walking the convention floor, we were happy to see a number of local artists and authors selling and presenting their artwork, and a ton of local superheroes, fans and gawkers wandering back and forth over the two days.
What was fantastic to see was a sort of vindication for us and our mission: 'Geek' culture is alive and well in Vermont, and events such as this have the ability to pull in a number of people. From all reports, the convention did extremely well, with a crowded two days on the convention floor and game rooms. It's also nice to see the various elements of Vermont's geek scene come together: Brap's Magic put together an extensive gaming schedule, costumes were out in full force, and elements of the state's cartoonist/artist community were present.
One thing that we were very thrilled about was the people who stopped by who had heard about us through various ways and means. We talked to countless fans who were interested in the site, converted a few more followers, but more importantly, met a ton of new people: we've formed a number of new links to people, which is very exciting: we can't wait to see what they'll be up to in the coming year.
It's clear that this was a first-year effort, and the convention will have some things to work on in the coming year: the convention's website is… painful, to say the least, with little information for vendors until the last minute, and with some copy editing issues. There were a number of artists present who weren't listed, and as a result, we came across a number of pleasant surprises wandering around. These, however, are pretty minor issues.
There were some glaring omissions: mainstay stores such as Quarterstaff Games wasn't present (although they had a game day across town) at all, while there didn't appear to be any official presence of the Center for Cartoon Studies, which is a major force in the cartooning world right here in Vermont. Hopefully, we'll see them next year. Some additional programming wouldn't be a bad idea either.
As a starting point, it looks like it was a success: the convention organizers have already indicated that they'll be back next year (Labor Day 2015 is the new date). There's certainly a lot of potential for them to grow and expand over the coming years, and that potential has us incredibly excited to see this become a mainstay here in Vermont.
For our part, many thanks to Megan, Ian and Matt for helping to man the table this year. Next year? We need a banner.