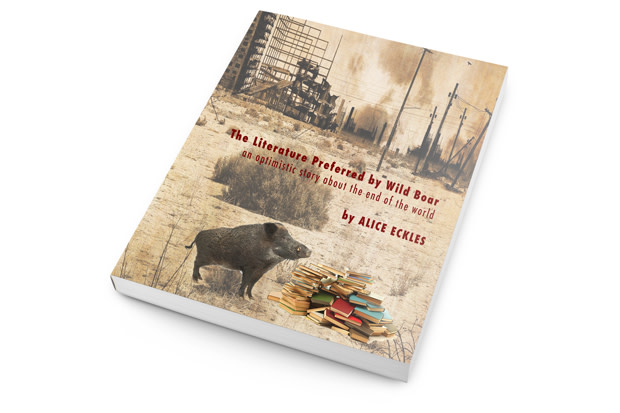 Middlebury author Alice Eckles is turning to the crowd to publish her next novel, The Literature Preferred By Wild Boar: An Optimistic Story About The Future.
Here's the blurb:
In 2056 the world's population is down to a few thousands after The Great Wobble, a catastrophic weather event. Deb a middle aged woman rebuilding her life and suffering from the loss of her career creates a project for herself. She is going to seek out a story that will help humanity survive. To do this she researches her grandfather's life crisis, and how he came through it. Her interest seems to draw lost family members out of the woodwork.

The trouble starts when a wild boar befriends her. Deb's neighbors-who have had their prestigious plants uprooted- think the boar is her responsibility. They demand the Deb kill the boar, or else it's war. This neighbor, Alfred, is a French diplomat of sorts. Deb is an intuitive, nature loving person and doesn't want to kill the boar. Eventually she does decide to hunt the wild boar, under pressure from her husband, Charles, but also out of curiosity about hunting and this new hunger for meat that has come over the community. Eating meat had fallen into disrepute, but ever since Alfred's wife became pregnant the taboo seemed ready to break.

As Deb hunts the boar she is led into a spiritual world seemingly annexed off the everyday landscape. After she kills the boar undigested letters are discovered in his intestines that help Deb with her story and unite the community. The feast of wild boar also has the transformative effect of giving everyone a boost of warmth and self-knowledge. Deb's family as well as the human family are brought together.
You can read a sample chapter here.
Backer tiers start at $10, and she's looking to raise a total of $2000 over the next 60 days. Pledge here!